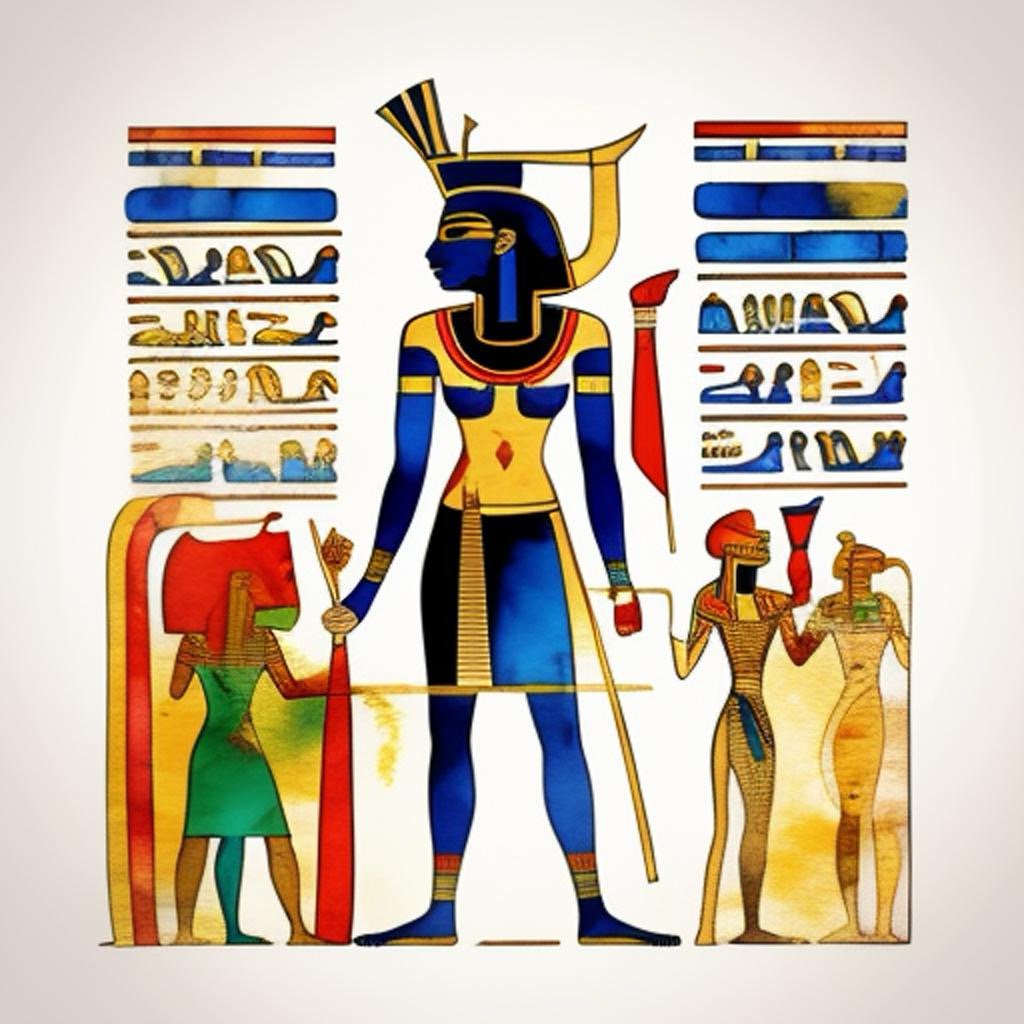 Prominent colors in ancient Egypt and their meanings
Table summarizing some of the prominent colors in ancient Egyptian art and their associated meanings
| | |
| --- | --- |
| Color | Meaning and Symbolism |
| Red | Symbol of life, energy, vitality, and creation. |
| | Associated with the god of chaos and creation, Amun-Ra. |
| | Used to represent deserts and the fertile soil of the Nile. |
| Gold | Represents the sun, divinity, and eternal power of the pharaohs. |
| | Associated with the sun god Ra and divine authority. |
| Blue | Symbol of the heavens, cosmic forces, and the afterlife. |
| | Linked to the god of the sky, Horus, and protection. |
| | Used to adorn the jewelry of the elite and powerful. |
| Green | Signifies fertility, rebirth, and the regenerative powers of the land. |
| | Associated with Osiris, the god of the afterlife and regeneration. |
| White | Represents purity, cleanliness, and the light of the sun. |
| | Used in religious rituals and offerings. |
| Black | Symbolizes the fertile soil of the Nile and rebirth. |
| | Associated with Anubis, the god of mummification and death. |
| | Often used in contrast to other colors for emphasis. |
| Yellow | Signifies the sun, eternity, and the eternal life of the soul. |
| | Associated with Atum, the creator god. |
| | Used to symbolize precious metals and materials. |
These colors played a crucial role in ancient Egyptian art, allowing artists to convey deep meanings, evoke emotions, and establish connections between the earthly and divine realms. Each hue held a significance that extended beyond its visual appeal, resonating with the cultural, religious, and spiritual beliefs of this ancient civilization.
Shop Tip
Egyptian colors on Amazon
Thank you for reading, shares and comments 👍
Take time to learn
Invest in your future
Learn affiliate marketing & build your own website with an awesome community and join me there. You can be a free starter for as long as needed. It includes free hosting and basic teachings. If you are an advanced user, you may like to level up. just have a look, and see for yourself!