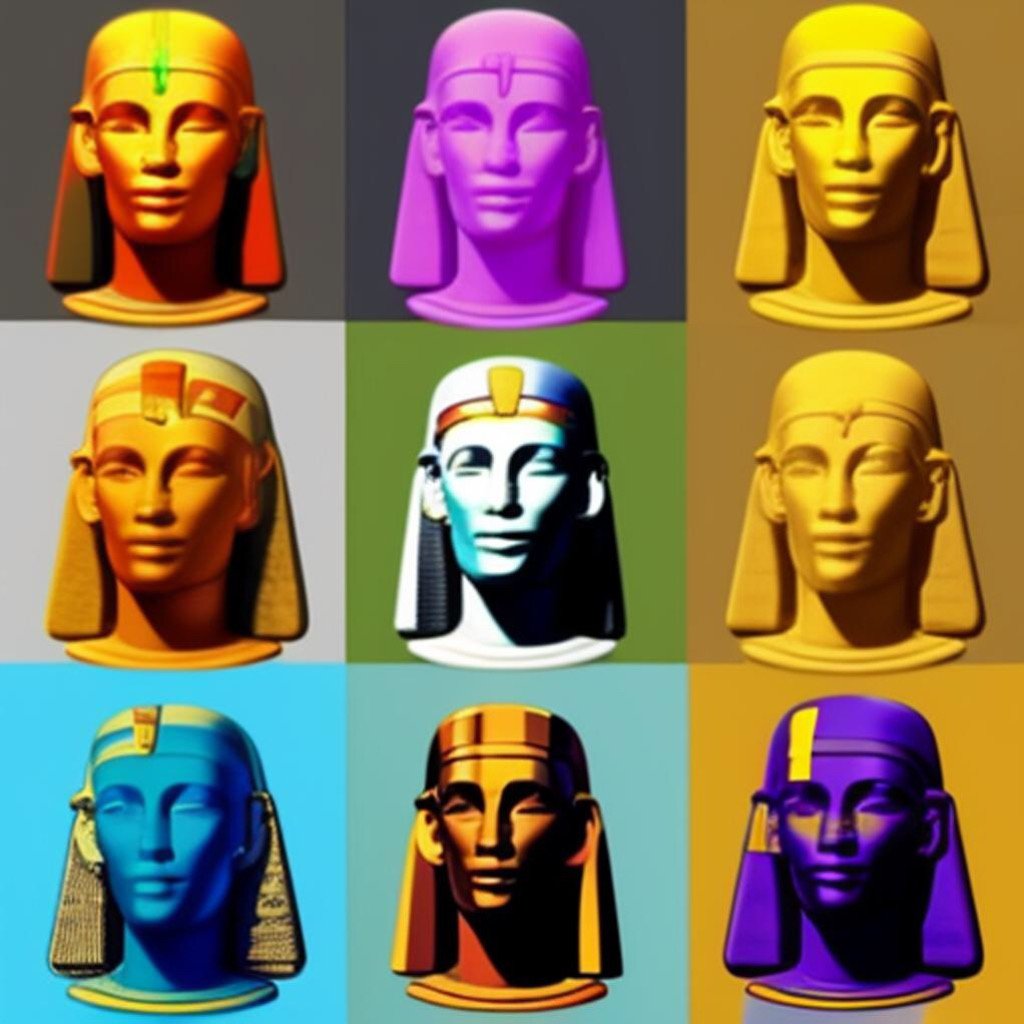 Ancient Egyptian art was characterized by a range of colors, many of which were derived from natural sources.
Some typical colors used in Egyptian art
Ochre
This reddish-brown pigment was commonly used in Egyptian art and symbolized aspects of life, power, and vitality.
Lapis Lazuli
A brilliant blue pigment sourced from the semi-precious stone of the same name. It was associated with the sky, water, and the divine.
Malachite
A vivid green mineral pigment that represented fertility, growth, and rebirth.
Hematite
A reddish-brown mineral pigment used to depict skin tones, clothing, and certain ritual contexts.
Yellow and Gold
These colors were often achieved through the use of yellow ochre or real gold leaf. They represented the sun, divinity, and eternity.
Black
Black pigments were obtained from charcoal or naturally occurring black minerals. They were used for outlining figures, hieroglyphs, and symbols.
White
White was used to depict clothing, bandages in mummy portraits, and symbols of purity and light.
Brown
Various shades of brown were used for detailing and shading, often to provide depth and dimension to artworks.
Gray
Gray hues were occasionally used for shadows or highlighting certain features.
Pink
Although less common, pink pigments were created from natural sources like red ocher mixed with white.
Turquoise
This color was occasionally used to depict the vibrant hues of the Egyptian landscape, such as the waters of the Nile.
These pigments were obtained from minerals, plants, and even insects. Their application in Egyptian art helped convey various meanings, symbolism, and cultural significance. The careful selection of colors and their harmonious combinations played a vital role in creating the captivating and enduring artworks that still captivate us today.
Shop Corner
The colors of ancient Egypt on Amazon
Thank you for reading, shares and comments 👍
Take time to learn
Invest in your future
Learn affiliate marketing & build your own website with an awesome community and join me there. You can be a free starter for as long as needed. It includes free hosting and basic teachings. If you are an advanced user, you may like to level up. just have a look, and see for yourself!